Gift Sets / Gift Bundles for Christmas & Year-End Gifting
Looking for unique farewell or Christmas gifts with name customisation? Browse through our collection for gift sets that you can't really find anywhere else!
Let's start gifting!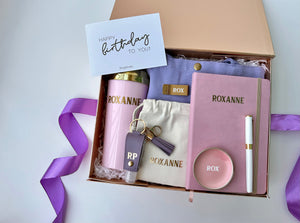 Farewell & Thank you Gifts for Office Colleagues
Got a dearest colleague who's starting a new job elsewhere? Help them get a fresh start through personalised and practical office gifts.
Gifts to help you say goodbye
Gift Boxes / Gift Packaging / Gifting Solution / Printables
Have many items to gift this Christmas season but don't know how to wrap them up or present it beautifully? No worries! Our personalised gift boxes are here to save the day. 🦸‍♂️🦸‍♀️ Take a peek inside to see some helpful printables too!
Take a peek!
New Mum & Baby Gift Sets
For the new Mum and her little bundle of joy. Step in here to find gifts with the most personal touch, delivered beautifully packaged and ready to give.
Send one now.
We love working with businesses like yours to create custom corporate gift sets for your event. What we love even more is taking the stress of labour-intensive gifting off your shoulders. Click HERE to see some examples of the gift boxes we've put together for different organizations / companies.