Updates — singapore gift delivery service
• client gifting • corporate gifting • gift hamper • singapore gift delivery service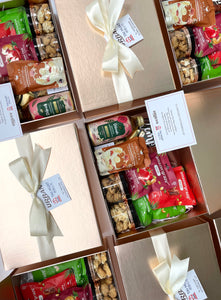 Corporate gifting during festive events like Hari Raya is a common practice for many companies in Singapore. This year, we have a special one - a combined gift from two companies. Urban Motors and Tai Huat engaged our corporate gifting service which includes adding their corporate logo to our predesigned gift set. Let's take a look at how this gifting event turned out. Know who the gift is from in a flash with a striking personalised gift tag.   A taste of all things Hari Raya condensed in a box! The delicious mouth-watering kuihs, tasty and famous rempeyek crackers brand, award-winning tea and fast-selling dates...
---
• Father's Day • Gifts for Him • Newly launched • Office gifts • Personalised notebooks • singapore gift delivery service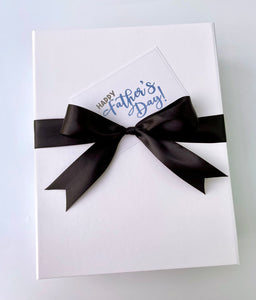 Father's Day falls on Sunday, 19 June 2022 and is FAST approaching! Making it's debut this year in 2022, we've created a list of gift boxes just for the working dads in our lives. Say thank you to the man in your life who has worked hard by sending over a gift box containing all things personalised. Click HERE to view the collection! Here's the first feature in our list! 1) LUXE Personal Desk Set (in Mod) S$86.90   This is a really good-looking set with practical items that are personalised: Double-walled bamboo lid tumbler which keeps his drink piping hot throughout the...
---
• client gifting • corporate gifting • Office gifts • Personalised notebooks • singapore gift delivery service
Starting a new business quarter can be quite daunting for many, especially after a long holiday at the start of a new year. Presenting a practical gift can minimise stress and motivate employees to start the new quarter right. In this project, our client chose our best selling formal gift set - a personalised black work journal with a writing pen and detachable pen holder as accompaniment. And as usual, for a My Gift Maker signature look, they are all pulled together neatly in a gift box with a perfectly hand-tied bow for that personal touch. Not Your Usual Corporate Swag Personalised name on each book for every staff -  each book...
---
• client gifting • corporate gifting • full gifting service • gift hamper • office gifts • singapore gift delivery service
It's officially here! We've been asked time and again by businesses and organisations and we have finally launched our Full Gifting Service!  We understand that gifting is a very stressful event for you. Our mission is to help you have a pleasant gifting experience and stress-free gifting event from start to finish. We also recognise the importance of gifting to strengthen relationships with the people that are important to your business - your employees, clients and stakeholders. That's why we are here to help you or your business curate personalised gift boxes that are purposeful, personal and well thought out for the intended recipient. By sharing our outline...